Acorns Children's Hospice announced as Open GI's new charity partner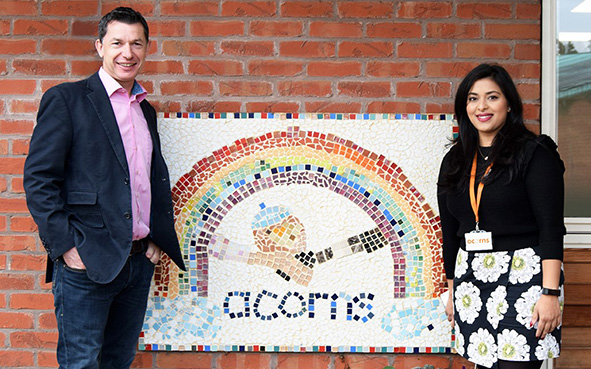 Local technology provider, Open GI, has today confirmed that it will be supporting Acorns Children's Hospice Trust (Acorns) as part of a yearlong fundraising effort to raise monies for the children's hospice.
Acorns was selected from a unanimous vote by the staff at Open GI. Employees at the software provider will now embark on a range of activities from running events, gruelling cycle challenges, raffles and numerous tasty bake sales. They will also be attending Acorns' Bubble Rush that will be taking place at Worcester Race Course on June 30th.
Established in 1988, Acorns provides specialist palliative care and support to local life limited and life threatened children and their families across the heart of England.
In the last year, Acorns has cared for 876 children and supported 1,097 families, including those who are bereaved across Worcester and the West Midlands. The charity maintains three children's hospices, which provide a range of services including ongoing medical support, end of life care and providing hospices at home.
Natalia Solanki, Fundraising Manager at Acorns, said:
"We are very pleased to have been selected by the employees of Open GI as their charity partner for the year. Our tireless work relies on the generosity and dedication of our fundraisers of which we are very grateful. We're looking forward to following Open GI's fundraising activities throughout the year, and seeing what they get up to!"
Chris Guillaume, Group CEO at Open GI, said:
"We are delighted to announce our support for Acorns this year and look forward to the challenge, as always, to raise as much as possible for such an important and worthy local cause."
In 2017, Open GI raised £25,885 for children's charity New Hope Worcester through a range of fundraising activities.
Notes to Editors:
Open GI is one of the leading technology partners to the General Insurance industry. Open GI provides a range of configurable insurance software to insurance brokers, underwriting agencies, insurers and MGAs in the UK and Ireland.
Its broking platform solutions, which includes Transactor Version 7 and Core, provides multi-line, multi-channel, multi-brand trading capability complemented by innovative eCommerce and mobile technologies.
Open GI is part of the Open International Group and has 600 staff across offices in Worcester, Dublin, London, Winchester, Milton Keynes, Skopje and Krakow.