Customer support number 1 priority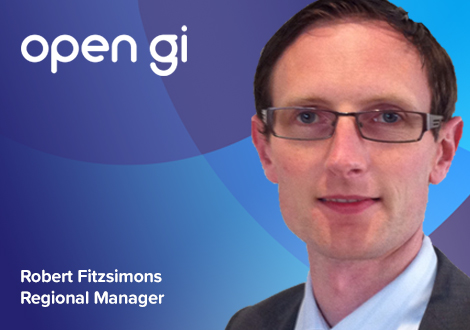 Open GI Ireland's Regional Manager, Robert Fitzsimons, talks to Irish Broker Magazine about how the technology firm is supporting its customers and partners whilst safeguarding its employees during the Coronavirus pandemic.
It is undoubtedly a very challenging time for any business, not to mention the personal tragedy Coronavirus may bring to many of us. Here are at Open GI Ireland, we remain focused on supporting our brokers, insurers and MGAs so they can continue to operate as they normally would.
Supporting our customers
As the pandemic has spread around the world, our priority has been helping our customers deal with this 'shock' to their business. What has been evident during our discussions is just how adaptive and resilient brokers are in dealing with this pandemic. We have helped our customers with a range of support resources to help their businesses continue to trade; from over-the-phone customer support through to online resource guides – all customers are catered for, whatever their business specialism.
The impacts of the Coronavirus crisis have not disrupted our established Customer Support team. We have maintained the same level of support and adapted to customer needs when challenges have arisen. For example, some brokers have felt overwhelmed at the prospect of working remotely; we have therefore made sure we have been on-hand to guide them through the process – so their business remains open as usual.
We are ensuring that we maintain constant contact with our customers, engaging more and more via video conferencing services. Whilst this may seem a little off-putting at first, many customers are now preferring this route of communication. I believe moving forward this could open lots more doors for brokers in general, particularly how they run their businesses and engage with their customers.
Safeguarding everyone
Our people are one of our most valuable assets and their well-being is important to us. In addition, we want to ensure we play our part in the fight to help reduce the spread of the virus.
From late March we mobilised, in a very short space of time, over 550 employees to work remotely across several office locations. From the Accounts team through to our internal IT function, the entire business is now completely working from home utilising several technology solutions to support their remote working.
The future
Whilst it may be difficult to look at anything beyond COVID-19, we are dedicated to enhancing our technology to benefit our customers. We are working on several key programmes which involves boosting our platforms usability, streamlining and enhancing our customer delivery and implementing a specific technology strategy for the Irish market.
Earlier this year our Group CEO, Simon Badley, joined me to meet with our Broker User Group and key Irish Broker/Insurer Partners. These meetings were of a candid nature but very productive, and I am pleased to say that off the back of these discussions, we have defined and agreed significant investment for our Irish business.
This has the support of key Insurer Partners and primarily delivers a series of rating improvements to our platform. We are set to have this new functionality with our Insurer Partners to test in August, with release to brokers shortly thereafter. This is a big step forward and we will continue with our investment in Ireland, with three further functional releases of our Core platform later this year.
Thank you
I also want to say a big thank you to our Broker and Insurer Partners for their support during these challenging times, as well as for their support in general. We will continue to collaborate and deliver market-leading technology in Ireland; something we kick-started in February with the new Core 16 release and will continue to do via further releases.
Finally, whilst we all adjust to the 'new norm' that COVID-19 has brought upon us, I hope you and your families stay safe and well.
Notes to Editors:
Open GI is one of the leading technology partners to the General Insurance industry. Open GI provides a range of configurable insurance software to insurance brokers, underwriting agencies, insurers and MGAs in the UK and Ireland.
Its digital insurance solutions, which includes Mobius and Core, provide multi-line, multi-channel, multi-brand trading capability complemented by innovative eCommerce and mobile technologies.
Open GI is part of the Open International Group and has 600 staff across offices in Worcester, Dublin, London, Winchester, Milton Keynes, Skopje and Krakow.