Local leading software company delivers huge boost to St. Richard's Hospice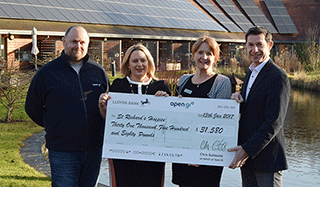 Worcester-based technology company, Open GI, has smashed its 2016 charity target by raising a phenomenal £31,580 for St. Richard's Hospice.
Each year, Open GI commits to supporting a local charity within the Worcestershire area and at the end of 2015, St. Richard's Hospice was selected as the charity partner. Throughout 2016, employees across the business took it upon themselves to volunteer, raise awareness and, most importantly raise funds by taking part in sporting events such as the Paddle, Plod, Pedal and Worcester 10k as well as holding themed dress-down days and most recently a Christmas raffle.
Established in 1984, St. Richard's Hospice cares for patients and families who are living with cancer and other life-threatening illnesses across Worcestershire. Their mission statement 'Caring for Life', is installed in the heart of everything they do, providing care to over 2,600 patients and family members each year.
Rachel Jones, Fundraising Manager at St. Richard's, said:
We have loved working with Open GI as their chosen charity in 2016 and are so proud of the whole team for getting involved in so many of the hospice's events and getting creative with their fundraising. They have also given their time through volunteering at our warehouse on several occasions to help with various projects and the team were particularly proud to be involved with the planting of our 1,000 forget-me-not flowers as part of our celebration garden over the Summer. We thank everyone at Open GI for their commitment and enthusiasm during the partnership. The money raised will make such a difference in our local community.
Chris Guillaume, Group CEO at Open GI, said:
2016 has yet again proved to be a very successful year raising money for our nominated charity. We were delighted to be able to help St. Richard's Hospice which we last supported in 2008.

Raising such a substantial amount of money demonstrates the support and hard work of each and every one of our amazing employees and I cannot thank them enough. The money will allow St. Richard's Hospice to continue to provide vital care to thousands of families.
You can read more about our partnership with St Richard's Hospice in the press:

Notes to Editors:
Open GI is the leading technology partner to general insurance brokers in the UK and Irish markets. Its Core broking platform provides multi-line, multi-channel, multi-brand trading capability complemented by innovative ecommerce and mobile technologies. Open GI is part of the Open International Group alongside sister companies Open GI London and Open GI Ireland.