Local technology provider recognises long service staff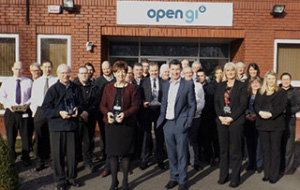 Pictured: Chris Guillaume, CEO of Open GI (centre), with Helen Barker, Operations Director (L), Sue Benge Head of Human Resources (R) and the staff at Open GI recognised for their long service contributions.
Worcester-based insurance software house Open GI Ltd has recognised a number of staff for their continued contributions to the company.
Thirty-two long service awards were presented at the company's annual staff conference held at Sixways Stadium, Worcester in December 2014.
The awards were given to those celebrating 10 years, 15 years, 20 years, 25 years, 30 years and 35 years with the company. Quite remarkably, the thirty-two staff members make up 540 years of combined service, a milestone worthy of highlighting.
Chris Guillaume, Group CEO, commented:
"At Open GI, we feel it is important to recognise the achievements of our staff throughout the company, especially in regard to commitment and longevity of service. Whilst we are proud of our long service record, we are also aware of the need to recruit and develop our technical leaders for the future."
Open GI is currently recruiting so if you are an ambitious, high performing individual looking to join a market-leading software house with ample scope to build and develop a successful career, check our careers page at www.opengi.ie for further details.
For more information about Open GI:
Helen Andrews
Group Head of Marketing & PR
Email: helen.andrews@www.opengi.ie
Notes to Editors:
Open GI is the leading technology partner to general insurance brokers in the UK and Irish markets. Its Core broking platform provides multi-line, multi-channel, multi-brand trading capability complemented by innovative ecommerce and mobile technologies. Open GI is part of the Open International Group alongside sister companies PowerPlace, Open GI London and Blue Fire Communications.