New Hope announced as charity partner for Worcester-based software house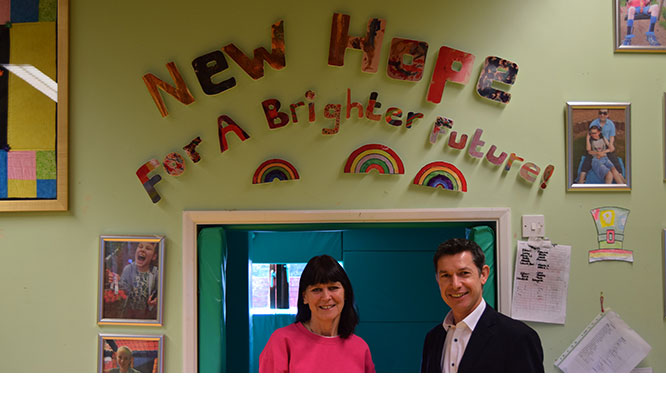 Market-leading technology provider, Open GI, has confirmed their chosen charity partner for 2017 will be 'New Hope'.
Voted for by the employees at Open GI, New Hope was selected amongst a list of other worthy local causes. Starting in January 2017, Open GI will dedicate a year of fundraising activity for New Hope where staff will be encouraged to volunteer, increase awareness and, most importantly, raise vital funds.
Established in 2010 by the inspirational Jean Wilson, New Hope exist to provide specialist respite care to children with disabilities and complex health care needs. Their aim is to provide a happy, safe, warm and stimulating environment for all children to play, learn and develop freely.
Recognised for her tireless work for New Hope, Jean was awarded an MBE in the Queen's Birthday Honours for her continuous commitment and outstanding work with children.
Jean Wilson, Founder of New Hope, said:
We are all thrilled to have been chosen as the charity partner of Open GI, especially as they are a local company and conveniently located to us. It will make a huge difference to our children and we very much look forward to working together in 2017.

In 2016, Open GI raised over £31,000 for St. Richard's Hospice through a range of fundraising activities.
Chris Guillaume, Group CEO at Open GI, said:
New Hope work tirelessly with families who have children with disabilities by running a school holiday club and Saturday club throughout the year. We are delighted to announce our support for New Hope and look forward to the challenge as always to raise as much as possible for such an important cause.
Notes to Editors:
Open GI is the leading technology partner to general insurance brokers in the UK and Irish markets. Its Core broking platform provides multi-line, multi-channel, multi-brand trading capability complemented by innovative ecommerce and mobile technologies. Open GI is part of the Open International Group alongside sister companies Open GI London and Open GI Ireland.