Open GI raises thousands for charity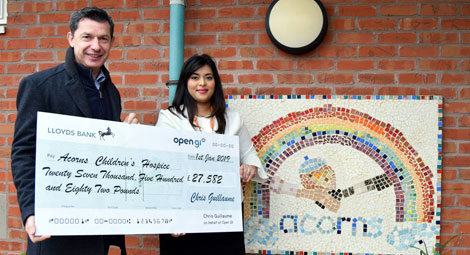 Worcester-based technology company Open GI's ongoing commitment to supporting local charities saw it partnering with Acorns Children's Hospice for 2018.
Over a period of 12 months Open GI raised an impressive £27,582 through a range of fundraising activities such as bake sales, raffles, quiz nights and various sporting events.  These included competing in the Worcester 10k and half marathon, the Birmingham half marathon, and three overseas marathons.  Groups of employees came together to complete a series of events such as the Alfa Wolf Run, a cycle from London to Paris and the company held many themed events such as Halloween and Christmas Jumper dress up days.  All of these events contributed significantly to Open GI's amazing fundraising efforts.
Established over thirty years ago in 1988, Acorns Children's Hospice Trust is a registered charity offering a network of care for life limited and life threatened babies, children and young people and their families, across the heart of England. The children and young people using Acorns' services require specialist care 24 hours a day, seven days a week and in the last year Acorns has supported 865 children and 1,088 families, including those who are bereaved.
Open GI has been honoured to support Acorns Children's Hospice through 2018, providing it with funds that will make a real difference to the lives of the young people they care for.
Natalia Keena, Corporate Fundraising Manager at Acorns, said:
"We were thrilled when Open GI announced Acorns as their chosen charity for the second time in 2018.  It has been a fantastic partnership and we've thoroughly enjoyed working alongside their dedicated fundraising team. Partnerships like this are important in enabling us to continue our work caring for children and families – 70% of our income comes from donations and fundraising by local businesses and the local community. This incredible donation will make a huge difference to the children and families we support. On behalf of everyone here at Acorns, I would like to say a huge thank you to Open GI for all of its support."
Chris Guillaume, Group CEO at Open GI, said:
"Charity work in our local community is extremely important to us all at Open GI.  I am so thrilled that we have managed to raise such a significant amount over the last year for Acorns, particularly given it celebrated its 30th birthday during 2018.  The vital work of Acorns would not be possible without the generosity of the local community and we are very proud to have played a part in that over the last year."
Notes to Editors:
Open GI is one of the leading technology partners to the General Insurance industry. Open GI provides a range of configurable insurance software to insurance brokers, underwriting agencies, insurers and MGAs in the UK and Ireland.
Its digital insurance solutions, which includes Mobius and Core, provide multi-line, multi-channel, multi-brand trading capability complemented by innovative eCommerce and mobile technologies.
Open GI is part of the Open International Group and has 600 staff across offices in Worcester, Dublin, London, Winchester, Milton Keynes, Skopje and Krakow.