Proud to have raised over £25k for local children's charity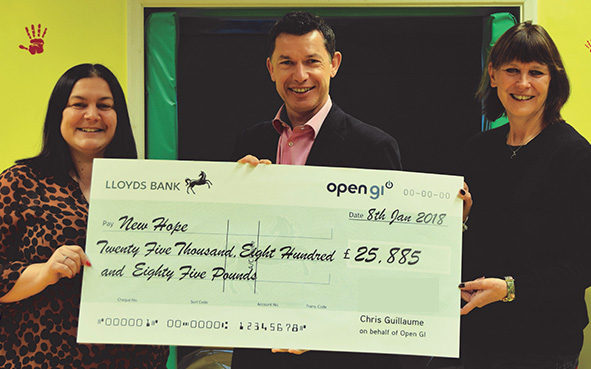 Worcester-based technology company Open GI has completed a successful year of fundraising and sponsorship, raising £25,885 for children's charity New Hope.
Since selecting New Hope to be its chosen charity, employees at Open GI have been busy finding ways to raise funds by taking part in sky dives, numerous sporting events, bake sales, fancy dress-up days, raffles and more.
New Hope, which was founded in 2010 by the inspirational Jean Wilson, MBE, exists to provide specialist respite care to children with disabilities and complex healthcare needs. Its aim is to provide a happy, safe and stimulating environment for all children to play, learn and develop freely.
Jean Wilson, Founder of New Hope, said:
"Since being chosen as Open GI's charity of the year, we've been excited to follow their updates and fundraising events. As a small charity, we rely on both private and corporate donations so we would like to thank everyone at Open GI for selecting New Hope for 2017, and their generosity and dedication over the last 12 months. The donation will go a long way to improving the services we can offer and the lives of the children we help in Worcester."
Chris Guillaume, Group CEO at Open GI, said:
"Each year we're delighted to be able to give back to our local community and provide support for worthy causes through many fundraising and volunteering activities. As such, we are thrilled to have raised a considerable amount for New Hope throughout last year's fundraising. As we look forward to this year, we are eager to begin another year of activities to raise funds for another local charity."
See our Charity page.
Notes to Editors:
Open GI is one of the leading technology partners to the General Insurance industry. Open GI provides a range of configurable insurance software to insurance brokers, underwriting agencies, insurers and MGAs in the UK and Ireland.
Its broking platform solutions, which includes Transactor Version 7 and Core, provides multi-line, multi-channel, multi-brand trading capability complemented by innovative eCommerce and mobile technologies.
Open GI is part of the Open International Group and has 600 staff across offices in Worcester, Dublin, London, Winchester, Milton Keynes, Skopje and Krakow.