Students celebrate new long-necked friend thanks to Open GI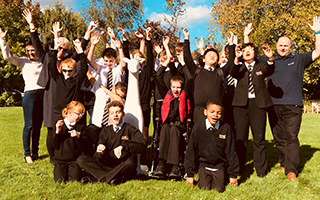 Students at a college for blind and visually impaired children are celebrating after being chosen to take part in a major art trail.
New College Worcester in Whittington Road will receive a giraffe calf sculpture to cover in artwork as part of Worcester Stands Tall – a public art project set to take the city by storm in summer 2018.
The showcase will see a host of huge, decorated giraffes stand proud through Worcester for 10 weeks – while the calves will wind their way through Crowngate Shopping Centre.
Technology software company Open GI is sponsoring both a large and small giraffe sculpture and has donated its calf to New College – whose students have already named their new, long-necked friend 'George'.
Glyn Pink, Group Head of Business Services at Open GI, said:
"Supporting the local community is one of our passions at Open GI and we couldn't think of a better partner to work with who will benefit from a giraffe calf.

"George will provide the students at the college a great, tactile project to work with – allowing them to put their own creative stamp on George when he comes to live in his new home."
While they wait for George to arrive in the new year, students are busy dreaming up artwork to dress him in.
At the end of the trail, which runs from July 9 to September 15 2018, New College will keep George as a lasting memento.
Each large giraffe will be auctioned to raise money to help St Richard's Hospice provide its ongoing, specialist care to patients living with life-limiting illnesses.
Nicki Ross, Principal of New College, said:
"We are absolutely delighted to be part of the project with St Richard's, and we are very excited about having George the giraffe with us.

"It's a fantastic learning opportunity for our students and a wonderful thing for Worcester. I'd also like to thank Open GI who have made it possible and sponsored George!"
Schools across Worcestershire can buy a calf sculpture to decorate and display as part of the trail.
If your school would like to get involved with Worcester Stands Tall, an education pack is available to download from www.worcesterstandstall.co.uk or call the hospice's Fundraising team on 01905 763963.
Worcester Stands Tall is a Wild in Art event brought to the city by St Richard's Hospice.
There is still plenty of time to sponsor a giraffe. To get involved call 01905 763963 and ask for Tricia Cavell, email worcesterstandstall@strichards.org.uk or visit www.worcesterstandstall.co.uk
Worcester Stands Tall is supported by presenting partners Worcestershire Ambassadors and Crowngate, education partner West Midland Safari Park and media partners Free Radio and Worcester News.
Notes to Editors:
Open GI is one of the leading technology partners to the General Insurance industry. Open GI provides a range of configurable insurance software to insurance brokers, underwriting agencies, insurers and MGAs in the UK and Ireland.
Its broking platform solutions, which includes [Transactor] Version 7 and Core, provides multi-line, multi-channel, multi-brand trading capability complemented by innovative eCommerce and mobile technologies.
Open GI is part of the Open International Group and has 600 staff across offices in Worcester, Dublin, London, Winchester, Milton Keynes, Macedonia and Poland. It works alongside its sister companies Open GI London, Open GI Ireland, TGSL Poland and S4i.

St Richard's Hospice provides free specialist palliative care for patients living with life-limiting illnesses and supports their loved ones. Each year the hospice team supports over 3,000 patients and family members in Worcestershire.
The hospice strives to provide the best medical, practical, emotional and social support they can to help people live life to the fullest, as independently as they can, for as long as they can.
St Richard's is an independent charity and is grateful for all donations to help it continue its work.
Find out more at www.strichards.org.uk
Wild in Art is one of the leading creative producers of spectacular, mass-appeal public art events, which connect businesses, artists and communities through the power of creativity and innovation.
Since 2008 Wild in Art has animated cities across the world including Sydney, Melbourne, Cape Town and São Paulo and created trails for the London 2012 Olympics, the 2014 Commonwealth Games in Glasgow, Historic Royal Palaces and Aardman Animations.
Wild in Art events have:
Attracted over 7 million additional visitors to host cities across the UK and worldwide
Contributed over £1.2m to local creative communities
Enabled over £10m to be raised for charitable causes
Engaged over 100,000 young people in creative programmes
For further information about Wild in Art visit www.wildinart.co.uk | @Wild_in_Art.